A True Princess of Hawai'i
Written by Beth Greenway
Illustrated by Tammy Yee
Arbordale Publishing

Nani has always dreamed of being a princess. When a real Hawaiian princess comes to her hometown of Hilo, Nani dresses in her best clothes. But as she watches Princess Luka, who has come to save the town from a volcanic lava flow, Nani learns that there is more to being a princess than fine clothes. This incredible story of kindness and generosity is based on the historical events of the 1880-1881 eruption of Mauna Loa on the Island of Hawai'i and the real-life Princess Luka.
REVIEWS
A good story about the importance of kindness. VERDICT Recommended for most collections.
- School Library Journal

History mixes with folklore in this story of the Mauna Loa volcano.
-Kirkus Reviews

"A True Princess of Hawaii" is completed by beautiful, realistic but imaginative color illustrations plus creative learning activity pages...This excellent educational book has great appeal to young readers of all ages
- Midwest Book Review
---
The Tsunami Quilt: Grandfather's Story
Written by Anthony Fredericks
Illustrated by Tammy Yee
Sleeping Bear Press

April 1, 1946--an enormous tsunami wave strikes Hilo, Hawaii, causing death and destruction. Even those islanders who are fortunate to have survived find their lives forever altered.

Young Kimo loves his grandfather very much--they go everywhere together, sharing island stories and experiences. But there is one story his grandfather has yet to share and that is the reason behind their yearly pilgrimage to Laupahoehoe Point. Here, in silent remembrance, Granfather places a flower lei atop a stone monument.

It is only after his grandfather's sudden death that Kimo learns the story behind their annual visit and the reason for the sadness that has haunted his grandfather throughout the years. Evocative writing by award-winning children's book author Anthony D. Fredericks brings this tragic event from Hawaiian history to present-day reality for young readers today.

On September 8, 2007 the Pacific Tsunami Museum in Hilo, Hawaii hosted a free event featuring children's author and illustrator Tammy Yee and her new book, "The Tsunami Quilt." The book is dedicated to the late Bunji Fujimoto, a long time friend and supporter of the museum and a 1946 Laupahoehoe tsunami survivor.

Museum director Donna Saiki began the program and Ed Mahoney read the book aloud to the audience. After the reading Donna concluded with some more tsunami survivor stories from Laupahoehoe and the video of the Yoshikazu Murakami story.

The museum has extensive archives of tsunami survivor accounts and photographs and educates the public about the continued threat of tsunamis in Hawaii.
AWARDS
2007 Bank Street College of Education - Best Book of the Year List

2008 Storytelling World Awards Honor winner in the Pre-Adolescent Listeners category
AUTHOR'S NOTE
"It was my intention to put a human face on what had happened that day. Unlike the typical reportage of buildings lost and monetary damage done, this story is about the memories that last long after everything has been rebuilt."

~Anthony Fredericks, in an interview by Keya Keita for The Garden Island
ARTIST'S NOTE
I flew to Laupahoehoe in preparation for illustrating The Tsunami Quilt. It was dusk when I arrived--too dark to take good photos, but I wanted to view the site before nightfall to get a feel for the peninsula's geography. The monument, inscribed with the names of the 24 victims who lost their lives in the 1946 tsunami, was covered in offerings. Red Ginger. Ti leaves. Shells. A fragile necklace. I was unaware at the time that in a few days, the small community of Laupahoehoe would observe the 60th anniversary of the tragic event.

In the fading light I noticed a truck parked near the monument. In it was Frank DeCaires, a tsunami survivor who had lost three siblings that day. He told me how the waves withdrew, exposing the ocean floor and stranding fish on the rocky bottom. The waves returned then retreated again, each time higher than before. Children entranced by the sea's peculiar behavior and the gasping fish ran back and forth--away from the incoming waves, then back out onto the emptied bay as the waves withdrew. Some shouted that it was a tsunami, but few took the the warning seriously--after all, it was April Fool's Day. By the time the third wave struck, as high as the palm trees, it was too late.

I visited the archives at the Pacific Tsunami Museum in Hilo and the Bishop Museum, pouring through photos of Laupahoehoe before and after the tsunami, and of how children of Hawaii dressed in the 40s. I also read through the University of Hawaii's Oral History accounts of the 1946 tsunami--these, along with my chance meeting with Mr. DeCaires, had a profound impact on my illustrations.
REVIEWS
Booklist Review, June 1, 2007 Issue~

"Although the events of the tragedy are depicted in the book, the horror is lessened by using a framework story that sets the disaster in the past and by showing children running from the tsunami but not engulfed by it. A historical note is appended. Many readers will respond to this book's soft watercolors, understated tone, and moving story."

"The book deals with the difficult themes of loss within families and the devastating sadness of the death of innocent children in natural disasters. Some children may recall the 2004 Indian Ocean Tsunami that took thousands of lives, giving adults an opportunity to talk honestly with them about such disasters."

Through The Looking Glass Children's Book Review~

"Written with great pathos and warmth, the author of this book not only tells the story of a historic event but he also shows his readers how close the grandson and his grandfather are. We are able to see that this is a closeness that the grandson will continue to respect and remember even after his grandfather is gone."
---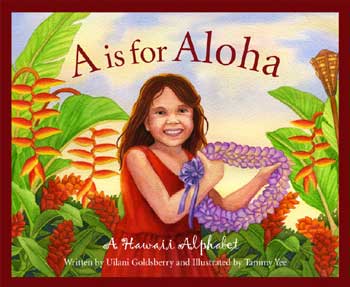 A is for Aloha
Written by Uilani Goldsberry
Illustrated by Tammy Yee
Sleeping Bear Press

2006 Hawaii Center for the Book selection to represent Hawai'i at the National Book Festival in Washington, D.C.

Completing Sleeping Bear Press's acclaimed Discover America State by State series is A is for Aloha: A Hawaii Alphabet. The landscape of Hawaii is as exotic as its history and people. Written and illustrated by native Hawaiian U'ilani Goldsberry and Tammy Yee, A is for Aloha is a lovingly created introduction to one of the most-visited places on Earth.

From the meaning of the word aloha to the plight of the state bird author U'ilani Goldsberry answers questions that most Malihinis have about this lush multi-island paradise.
REVIEW
"(Sleeping Bear's) niche is alphabet books that not only teach letters, but facts, culture and history about each of the 50 states. Their Hawaii effort draws on the talents of master storyteller Goldsberry and fantastic illustrator Yee and is a gold mine of cleverly presented data about the 50th state. Each letter also uses the mnemonic of a sing-song couplet poem to remember the lesson. Clever package, well-presented."

~Burl Burlingame, Honolulu Star Bulletin
---
Baby Honu's Incredible Journey
By Tammy Yee
Island Heritage Publishing

Baby Honu has just hatched from his egg. Will he find the courage to face sand crabs and sea birds on his perilous journey to the sea? And what wondrous creatures will he encounter in the ocean? Learn about the life of a baby Pacific green sea turtle as he faces ocean predators in this riveting adventure from the nest to the open ocean.
Baby Honu Saves The Day
By Tammy Yee
Island Heritage Publishing

Baby Honu is a tiny green sea turtle. What can he do to rescue a beached dolphin? Follow Baby Honu as he persuades a moray eel, a porcupinefish, a shark and even a humpback whale to help him in his quest. Young children learn that even the smallest efforts can cascade into meaningful consequences.

Both books feature a helpful glossary that teaches young children about Hawaiian marine life.
REVIEWS
"Yee draws in readers through her bright watercolor and soft pastel paintings of luscious tropical settings, soft baby sea turtles' eyes, and treacherous endangering animal faces. Young readers will enjoy this adventurous tale about Hawaii's sea turtles."

~From the National Council of Teachers of English's Adventuring With Books, 12th Edition by Kathryn Mitchell Pierce (Ed.).



"I think this sequel to 'Baby Honu's Incredible Journey' is her best work to date...Yee's well-structured plot skillfully integrates repetition at every turn, culminating in a fittingly predictable, satisfying ending. Yee also has a great knack for humanizing her colorful images of marine life."

-From The Honolulu Advertiser, March 4, 2000
---
The Ugly 'Elepaio
By Tammy Yee
Island Heritage Publishing

In the misty rain forests that skirt Kilauea Volcano lives an unsightly chick named Liko. With his orange skin and sparse feathers, Liko is taunted by the other forest birds. This adaptation of the classic Ugly Duckling tale follows Liko as he blossoms into a scarlet i'iwi, a beautiful honeycreeper. Also included is a glossary that teaches children about the birds of the Hawaiian rain forest.
REVIEWS
"'The Ugly 'Elepaio' is a wonderful story, written and illustrated by Tammy Yee, about a baby bird, named Liko, who is different, and therefor, is considered ugly! This book is an excellent story to tell to kids in the intermediate grades because it introduces us into the Hawaiian culture. ..they can decode the Hawaiian words while maintaining an understanding for, without distraction from, the storyline and the amazing illustrations."

From the The Children's Literature Presentation Online Review and Teaching Plan, The University of British Columbia's Department of Language & Literacy Education



"Author Tammy Yee is a talented storyteller...Yee's paintings are professional, her nature scenes lovely."

From The Honolulu Advertiser, February 6, 1999
---
Island Style Alphabet
By Tammy Yee
Island Heritage Publishing

Where else in the world is A for A'ama, B for Bon dance, and C for Chinese lion? Only in Hawai'i nei! Dedicated to the keiki of Hawai'i, Island-Style Alphabet celebrates Hawai'i's local culture with familiar island sights. A helpful addendum encourages children to search for hidden alphabet objects on every page.
REVIEWS
"The beauty of Tammy Yee's newest children's book is in the details...for example, the letter 'C' depicts a Chinese lion dancing through a Chinatown street. What makes Yee's book delightful are the other 'C' objects that surround the drawing's focal point: char siu hanging from skewers, a chicken being chased by a claws-out cat that is wearing a carnation lei, coffee berries on a bush planted in a can, a boy holding a crab with chopsticks and the chiles on his plate, a woman wearing a cheongsam with embroidered chrysanthemums and holding a camera, a little boy playing with a toy car, pieces of hard candy, cups on a shelf, chicks on the collar of a girl's dress, another girl with a crown flower lei, and a cricket eluding the chicken. An addendum lists some of the objects in each illustration, but not all of them, so older children- and even adults- will enjoy searching the pictures."

From The Honolulu Star-Bulletin, June 30, 2000



"(Island-style Alphabet) contains Hawaiiana nursery rhymes complemented by colorful illustrations portraying the different cultures, traditions, cuisines and traits that originated from the various ancestries and nationalities which have made the Islands their home."

From the Hawaii Tribune-Herald, July 2, 2000