River Rescue

Written by Jennifer Keats Curtis, illustrated by Tammy Yee
Arbordale Publishing


When oil spills, workers hurry to clean the land and water. But oil spills can also affect every animal that lives in the area. Who helps these wild animals? On the East Coast, a team from Tri-State Bird Rescue & Research rushes to the scene to save as many as possible. Follow along to learn how these experts capture oiled animals and treat them quickly and safely so that they may be returned to the wild. This illustrated nonfiction is based on the extensive experience of the Oiled Wildlife Response Team at Tri-State.
For Preview and Teaching Activities visit here.

Shark Patrol

Written by Ron Hirschi, illustrated by Tammy Yee
Mutual Publishing


BEHIND THE SCENES: Watch a time-lapse video of Tammy creating the cover art for "Shark Patrol" here.

Accompanied by their pup, Scout, Kai and Lehua join their Auntie Jan, a biologist, aboard the research vessel S.S. Scoutabout to study their favorite sea creatures, sharks. Children will enjoy learning about giant schools of sharks, mysterious deep sea lantern sharks and more!
A True Princess of Hawai'i

Written by Beth Greenway, illustrated by Tammy Yee
Arbordale Publishing


BEHIND THE SCENES: View rough sketches and research photos for this book here.

Nani has always dreamed of being a princess. When a real Hawaiian princess comes to her hometown of Hilo, Nani dresses in her best clothes. But as she watches Princess Luka, who has come to save the town from a volcanic lava flow, Nani learns that there is more to being a princess than fine clothes. This incredible story of kindness and generosity is based on the historical 1880-1881 eruption of Mauna Loa on the Island of Hawai'i and the real-life Princess Luka.
For Preview and Teaching Activities visit here.


Easy Bird Origami

Written & illustrated by Tammy Yee
Dover Publications


From familiar birds of the Western hemisphere — the Baltimore Oriole, Black-Capped Chickadee, and Northern Cardinal — to Asia's Strawberry Finch, Africa's Lilac-Breasted Roller, Australia's Red-Backed Kite, and the Flame Bowerbird of New Guinea, these 30 original models offer folding fun for bird lovers and origami enthusiasts of all ages.

Suitable even for beginning paperfolders, the bird models feature simple folding instructions, and fun facts about each species!
Learn more...

Iki, the Littlest 'Opihi

Written & illustrated by Tammy Yee
Island Heritage Publishing


2nd Edition with fun, new artwork!

'Opihi are known to live by clinging to rocky shores and can withstand the mightiest waves. Amongst all snails and slugs, Hawaii loves the 'opihi best of all. Our story follows Iki, the littlest 'opihi. Iki understands the duties of his kind: 'opihi stick together no matter what, but Iki doesn't feel like settling down and seeks adventures in the open ocean. When an 'opihi picker visits Iki's rock, will he finally be able to "stick to it"?
Learn more...

Wanda's Humpback Hula Show

Written by Marian Parks, illustrated by Tammy Yee
Nature Tale Books


When Wanda's new baby brother arrives, she feels left out and miserable . . . until she cleverly hulas her way to humpback fame. Wanda delights in her newfound stardom, but one day a careless mistake ruins everything. It will take an apology to fix this mess!

Kids will enjoy Wanda's entertaining antics, but they'll also learn about the North Pacific humpback whale migration--and that sometimes, they need to say, "I'm sorry."

For Teacher's Guide, Coloring Pages and Reading Journals, visit http://naturetalebooks.com/books/. Preview Wanda's Humpback Hula Show.

Chasing the Sun:
An Island Adventure for Kids

Written by Masserman Brothers, illustrated by Tammy Yee
Chasing it All Publishing


Where does the sun go right after it sets, when the sky turns pink and the day goes to rest?

In his quest to find the sun, Tiki and his friends journey through jungles, beaches and mountaintops--and discover so much more.
Learn more.
---

Check back soon!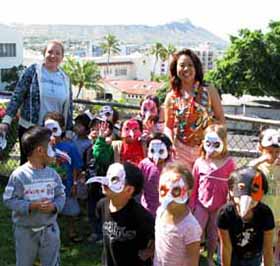 I'm available for school visits!

After a book reading, I'll share my rough sketches and original paintings, and talk about how books are made. Then I'll sketch for the class. Hopefully, the children will be inspired to create their own books! Contact me.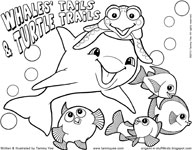 Download book related coloring pages and activities here or visit my Origami n' Stuff 4 Kids blog for more paper folding activities and crafts.






Have you ever wondered how illustrators create art for picture books?

Watch my latest time-lapse demonstrations in Procreate, a digital illustration app for iPad on YouTube.

You'll also find step-by-step origami instructions from my books, Easy Butterfly Origami and Easy Bird Origami.