I'll be signing my latest releases (along with the classics). Drop by and talk story!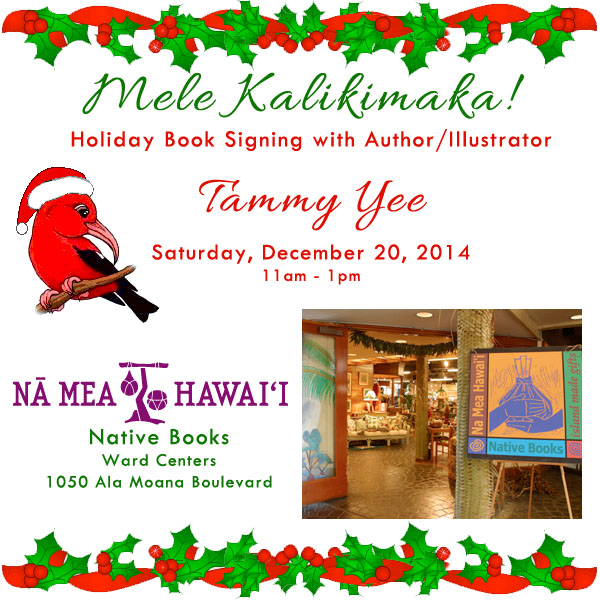 ---
NEW IN 2013

Malia in Hawaii
Written by Karyn Hopper
Illustrated by Tammy Yee
Mutual Publishing 2013
ISBN: 978-1939487-19-3

Surfing or dancing, parades or hula, noodles or sushi? Malia likes them all! Malia in Hawai'i is the story of a little girl with a long name, and an even longer list of things she likes to eat and do. Join Malia Sachi Ging Ging Lee as she explores the food and fun of her Hawai'i home.

Print and Color Malia in Hawaii:



---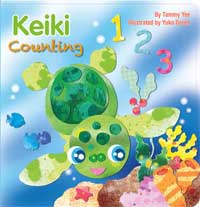 NEW IN 2013
Keiki Counting 1-2-3
Written by Tammy Yee
Illustrated by Yuko Green
Island Heritage Publishing 2013
Learn numbers one through ten with Hawaiian animals, plants and more in this fun-filled book. This delightful Hawaiian children's book makes a great gift for that special child in your life.

Board Book, 12 Pages, 7"x7".

---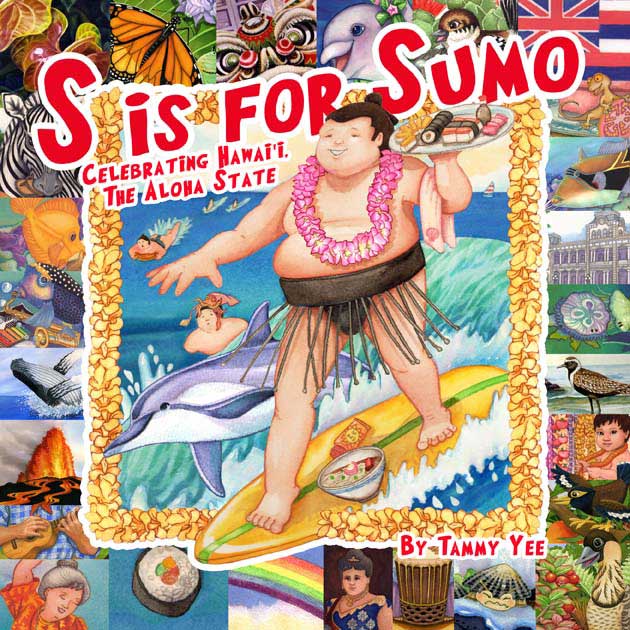 NEW IN 2013
S is for Sumo: Celebrating the Aloha State
Written and Illustrated by Tammy Yee
Windword Books
ISBN: 978-1492885757
Dancing dolphins, surfing sumotori, 'ukulele-strumming ukus and more! From 'a'ama to zori, children learn the alphabet by finding objects hidden on every page.
Hawaii is more than a tropical paradise. Its unique blend of Hawaiian, Pacific Rim and American culture welcomes visitors from around the world.
S is for Sumo
celebrates local culture by introducing both newcomers and longtime residents to island favorites such as laulau, Spam musubi and malasadas. For the people of Hawaii, aloha is more than just a word. It is a way of life.
Paperback, 40pp.
---
NEW IN 2013
Iki, The Littlest 'Opihi
Written and Illustrated by Tammy Yee
Windword Books
ISBN: 978-1493657971
'Opihi are shellfish that live clinging to the rocky shores in Hawaii. But Iki, the littlest 'opihi, seeks adventure in the open ocean. Will he ever settle down with the other 'opihi and learn to "stick to it"?
Paperback, 36pp.
Print and fold an origami Iki, the littlest 'opihi.
---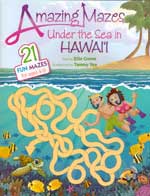 Amazing Mazes Under the Sea
Written by Ellie Crowe
Illustrated by Tammy Yee
Mutual Publishing 2012
ISBN Soft Cover: 1-56647-973-8
Help Nai'a the Spinner Dolphin find her friends and safely guide Honu, the newly hatched baby sea turtle, to the ocean in this special maze book just for kids! These twenty-one amazing mazes take kids on an underwater adventure in Hawaiian waters where they can wind there way around reefs and coral to learn more about its sea creatures~from ink-squirting he'e (octopus) to soaring malolo (flying fish).
---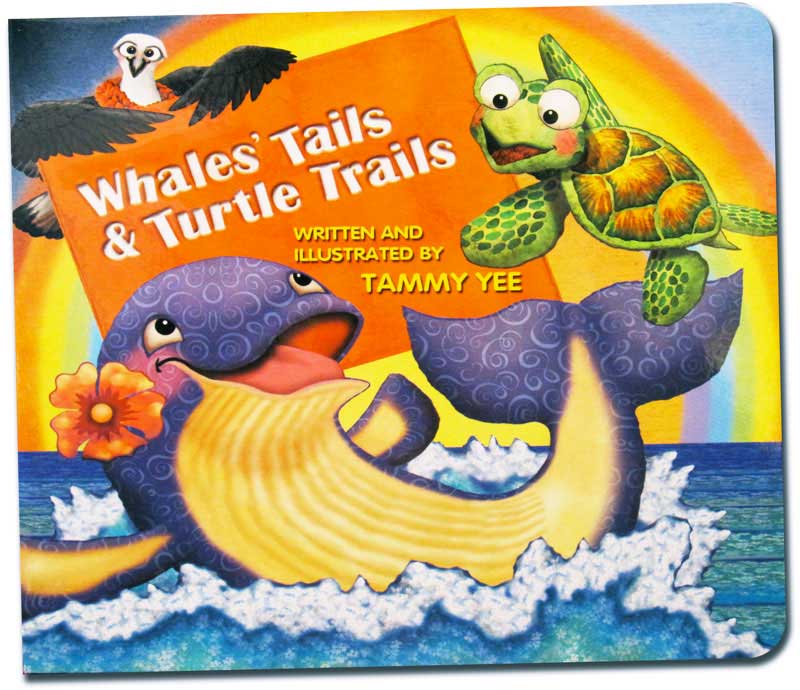 Whales' Tails & Turtle Trails
Written and Illustrated by Tammy Yee
Island Heritage Publishing, 2010
ISBN 1-59700-928-8
Go on a dreamy adventure with Turtle as he explores the ocean and the wondrous creatures that inhabit it. Turtle is joined with his friend Seal and together they encounter many delights along their travels. Children will enjoy the rhyming prose and vibrant illustrations throughout this charming board book.

---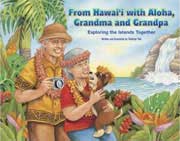 From Hawai'i with Aloha, Grandma and Grandpa
Written and Illustrated by Tammy Yee
Island Heritage Publishing, 2008
Did you know...
That Kilauea has spewed enough lava to fill more than a million Olympic-sized swimming pools? That a newborn humpack whale calf drinks one hundred gallons of milk a day? Or that twenty-seven Waimea Canyons stretched end to end can fit into the Grand Canyon? Children learn about the wonders of Hawai'i as they join Grandma and Grandpa on a trip through the Hawaiian Islands.
With additional space for postcards, keepsakes, and notes from their visit, grandparents can share their personal memories with their grandchildren. A great gift for that special child in your life.
---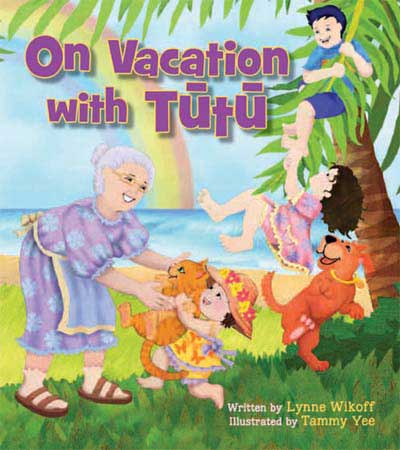 On Vacation with Tutu
Written by Lynne Wikoff
Illustrated by Tammy Yee
Mutual Publishing, 2011
ISBN Hard Cover: 1-5667-957-6
For Kainoa, Nani and little Mehana, being on vacation with Tutu means no bedtime, no baths, and n cleaning up. Being on vacation with Tutu is going to be the best fun ever!
Or is it? As Tutu's mynah bird Akamai says, "Tutu is smarter than you think."

---
Honor Awards winner for the 2008 Storytelling World Awards in the Stories for Pre-Adolescent Listeners category
The Bank Street College of Education in New York City has announced Tsunami Quilt is on its list of the "Best Books of the Year" for 2007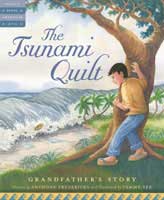 The Tsunami Quilt: Grandfather's Story
By Anthony D. Fredericks
Illustrated by Tammy Yee
Sleeping Bear Press, 2007
April 1, 1946--an enormous tsunami wave strikes Hilo, Hawaii. Even those islanders who are fortunate to have survived find their lives forever altered.
Young Kimo loves his grandfather very much--they go everywhere together, sharing island stories and experiences. But there is one story his grandfather has yet to share and that is the reason behind their yearly pilgrimage to Laupahoehoe Point. Here, in silent remembrance, Granfather places a flower lei atop a stone monument.
It is only after his grandfather's sudden death that Kimo learns the story behind their annual visit and the reason for the sadness that has haunted his grandfather throughout the years. Evocative writing by award-winning children's book author Anthony D. Fredericks brings this tragic event from Hawaiian history to present-day reality for young readers today. With a Teaching Guide by Sleeping Bear Press.
More information, comments from the artist and author, reviews...

---
Selected by the Hawaii Center for the Book to represent Hawai'i at the 2006 National Book Festival in Washington, D.C.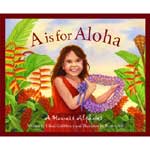 A is for Aloha
Written by Uilani Goldsberry
Illustrated by Tammy Yee
Sleeping Bear Press
Completing Sleeping Bear Press's acclaimed Discover America State by State series is A is for Aloha: A Hawaii Alphabet. The landscape of Hawaii is as exotic as its history and people. Written and illustrated by native Hawaiian U'ilani Goldsberry and Tammy Yee, A is for Aloha is a lovingly created introduction to one of the most-visited places on Earth.
From the meaning of the word aloha to the plight of the state bird author U'ilani Goldsberry answers questions that most Malihinis have about this lush multi-island paradise.
More information...


---
BABY HONU: Best-selling Island Classics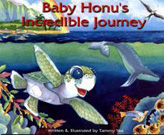 Baby Honu's Incredible Journey
Written and Illustrated by Tammy Yee
Island Heritage
Baby Honu has just hatched from his egg. Will he find the courage to face sand crabs and sea birds on his perilous journey to the sea? And what wondrous creatures will he encounter in the ocean? With a helpful glossary to educate children about Hawaiian marine life.
More information...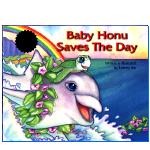 Baby Honu Saves the Day
Written and illustrated by Tammy Yee
Island Heritage Publishing
Baby Honu is a tiny green sea turtle who thinks he's too small to make a difference. But a beached baby dolphin inspires him to persuade a moray eel, a porcupinefish, a shark and even a humpback whale to help him in his quest. Follow the continuing adventures of Baby Honu as he teaches young children that even the smallest efforts can cascade into meaningful consequences.
More information...