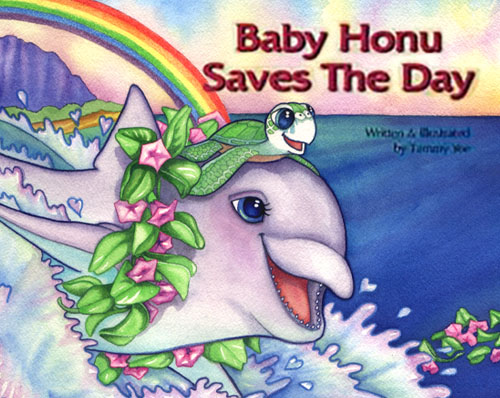 By Tammy Yee
Island Heritage Publishing
Hardcover: 36 pages
ISBN-10: 0896103277
ISBN-13: 978-0896103276
Baby Honu is a tiny green sea turtle. What can he do to rescue a beached dolphin? Follow Baby Honu as he persuades a moray eel, a porcupinefish, a shark and even a humpback whale to help him in his quest. Young children learn that even the smallest efforts can cascade into meaningful consequences.
A helpful glossary teaches young children about Hawaiian marine life.



WHOOSH, WHOOSH, WHOOSH, WHOOSH! Kokala was so startled that he GULPED and GULPED and GULPED enough sea water to make himself fat and round and prickly! The frightened puffer tumbled right into...sleeping Hihimanu!
-Excerpt from "Baby Honu Saves the Day"